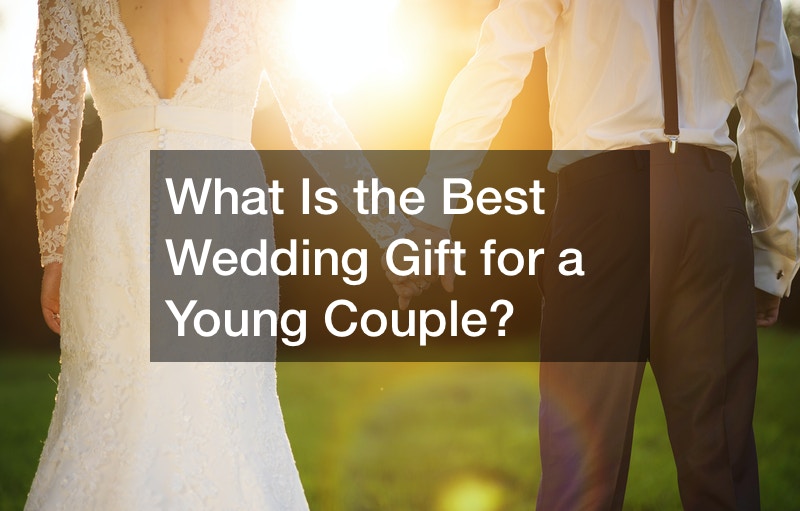 So you've been invited to a wedding. On the one hand, this is a great thing; it's a token of appreciation from a couple when you're invited to their wedding. And weddings are fun, right? They're joyous occasions meant to celebrate two people joining their lives together. But the reality is that there is a certain level of responsibility that comes with being invited to a wedding. After all, everyone invited to a wedding is expected to give a wedding gift. It's traditional, as well as being something of a common courtesy.
But a wedding gift isn't exactly like most presents that we give people, right? A wedding gift is not for an individual, but for a couple. Ideally, it will have some kind of practical aspect to it. After all, a wedding is for two people who are starting a new life together. While many couples live together before marrying in this day and age, many of them could still use a little help starting out. Obviously, you need to choose a wedding gift that means something to the people you're gifting. But where do you start when narrowing down your search? When asking yourself what is the best wedding gift for a young couple, it's easy to get stumped.
That's what we're here for! Whether you're looking for something more practical or more whimsical as a wedding gift, there are plenty of ideas for you to choose from. Let's explore the different options you may want to consider below.
1. Money
Money may not be the most romantic or whimsical gift to get a newly married couple, but it is something that virtually everyone needs. Additionally, money is a great idea for a couple that you don't know particularly well (perhaps you've been invited to a distant relative's wedding) but still want to be demonstrative towards. With that being said, while money is becoming more popular as a wedding gift, it still isn't fully accepted by everyone and is considered a breach of etiquette by some. This is why some couples have taken the step of indicating on their invitations that they would like cash as a gift, though this is also in the gray area of wedding etiquette.
With that being said, as we all been wondering what is the best wedding gift for a young couple, there are websites that have made it easier for couples to be gifted with money for their wedding. Honeyfund, for example, allows couples to start wedding registries. They can build cash registries that allow them to pay for things that they really want or need. One of the most popular options, of course, is funding the honeymoon through cash gifts from guests. Other couples choose to put money towards buying their first house together. Guests may feel better about giving money as a wedding gift when they know what they're contributing towards. It can feel more personal in this sense.
If you're a close friend or family but still want to help the couple financially rather than giving a personal gift, don't feel like it's a bad thing to simply ask. A lot of couples today feel more comfortable with accepting monetary gifts than they did in the past, and they may even appreciate your offering to help pay for the wedding or at least an aspect of the wedding, like affordable wedding flowers. Why not offer to pitch in or even cover the cost of the wedding dress? This type of help can make a big difference for the couple getting married. Nobody wants to start off marriage in debt due to the wedding costs; but at the same time, lots of people understandably have a hard time downsizing their weddings. Offering to pitch in can ensure that your loved ones get the wedding they want, while you no longer have to question what is the best wedding gift for a young couple.
2. Furniture
Furniture is an important part of making your home your own. But a lot of young couples can find it difficult and even financially overwhelming to buy new furniture after getting married and going on a honeymoon. This is a gift that you'll want to investigate further, as every couple is different. Some may want to specifically pick out their own furniture, and while being appreciative of your gift, they may find that it isn't exactly what their style entails. Talk to the couple you're planning on buying for, and see if there is a particular type of furniture that they need. If a couple has yet to move in together (some couples still wait until after the wedding, after all) they will be more likely to need a little help with furniture.
You may want to think about whether or not the couple would appreciate a new mattress. Beds need to be replaced more often than you would think. Bed frames can become damaged over time, whereas mattresses themselves take in a lot of allergens and bacteria. With that in mind, if you're considering what is the best wedding gift for a young couple you should consider prioritizing a new mattress. The great thing about buying a mattress is that it can't clash or look out of place, whereas typical pieces of furniture can. This way, you can offer a significant gift without necessarily stepping on anyone's toes.
3. Jewelry
While we may not think of jewelry as a wedding present initially, you may want to offer a commemorative token to the couple getting married. There is certainly nothing practical about custom jewelry as a wedding present. But if you're looking into what is the best wedding gift for a young couple, you may find that a lot of people appreciate having something that's a bit more frivolous. A lot of people, as it turns out, want something that they want for themselves as a gift, rather than something that is only going to lie around the house.
Of course, jewelry is something that is traditionally worn by an individual, and a wedding gift is something that you give to two people. But there are matching pieces of custom jewelry that you may want to consider when asking what is the best wedding gift for a young couple. For example, one piece could be a set of cufflinks for a groom, whether the other would be a matching bracelet for the bride. While you'll want to plan this kind of gift well ahead of time (as you should with any customized gift) for many brides and grooms this kind of thought will be well-appreciated.
There are other things you should consider when deciding whether or not to have customized jewelry made as a wedding gift. Many online companies will make customized jewelry for you based off of your select requests and specifications. Some of these companies are larger, while others are smaller and can be found on websites like Etsy. The prices of custom jewelry are varied, but generally, online jewelry makers are able to offer more competitive rates. On the other hand, you may find it to be more personal and special to work with a local jewelry maker. Typically, brick and mortar jewelers will have longer wait times, but they may be able to give you more of a personalized experience and additionally be better able to make exactly what you want.
4. An Experience
A lot of people love experiential gifts in this day and age. Experiential gifts could be the answer to the question of what is the best wedding gift for a young couple; it gives them time to be together and for that matter make memories together. With an experiential gift, you would usually give the couple a gift certificate that would allow them to have the experience at a later date. These can range from elaborate to more simple and local.
For most people, an experiential gift isn't going to consist of paying for an entire vacation; but it could certainly consist of a parasailing experience for the couple, or perhaps tickets to a local theater show. Another thing that you may want to consider is a class. The classes that couples take together may be cooking classes, or for that matter they could be craft classes. There are also some more unique classes on the market; some can even teach you about the process of aging your own whiskey. While some people like to step outside the box when they're using experiential gifts, others prefer something more familiar. Make sure you know what you're dealing with when you buy the gift; the last thing you want is to give someone a gift certificate that will never be used.
5. Kitchen Components
There are always classic presents to consider when deciding what is the best wedding gift for a young couple. Kitchen appliances and other components are perhaps some of the most popular wedding gifts that you can give. Kitchens are where a lot of people spend much of their time. Newlywed couples, in particular, can cook together, while at the same time eventually hosting their guests, chatting as they prepare meals. Of course, some kitchen components are more heavy-duty than others. If you know that the couple you're gifting is trying to renovate their kitchen, you may want to offer to buy them kitchen cabinets as wedding gifts. On the other hand, they might prefer their own set of dishes or silverware. There is certainly a lot for to you to choose from if you want to stick to more basic gifts.
On the other hand, it may be a good idea for you to gift them with a newer, trendier appliance. Cooking is becoming increasingly popular among young people, and there are corresponding appliances being on the market. Back in the day, the waffle maker or panini press was considered among the best wedding gifts for a young couple. Now, a lot of people are interesting in newer gadgets, like air fryers. An air fryer is a machine that allows people to fry the foods they want, while at the same time cutting down on the amount of oil used and creating a healthier product. The Instant Pot, on the other hand, allows people to use one pot to slow cook or saute their foods, while they're also able to pressure cook, cook rice, create yogurt, boil eggs, and much more.
6. Subscription Services
If you aren't sure that you want to offer an experiential gift, but still want to give something that's a little unique, you can buy a subscription service for the happy couple. Subscription services are growing increasingly popular; some of them surrounding health, wellness, and beauty while others focus on other niche interests. There are even subscription snack boxes! Of course, subscriptions are certainly wants rather than needs, so some young couples starting out may actually have an issue with affording them. It's hard to justify buying a subscription when you need to pay for roof repairs. Gifting them with a year-long subscription to their favorite service could be rather thoughtful.
Not all subscription services are going to be high quality. You may want to visit a review website like My Subscription Addiction in order to compare similar services before deciding on what's best for you.
In the same sense, there are plenty of unique gifts available for everyone. If you're buying for an environmentalist young couple, you may want to have a tree planted in their name. If the couple you're buying for is made up of busy professionals, offering a certificate for a light housekeeping service could be perfect.
Not all wedding gifts need to be extravagant; most people are not going to pay to have a pool installed for a newlywed couple! But ultimately, when wondering what is the best wedding gift for a young couple, know that the answer lies in their interests.