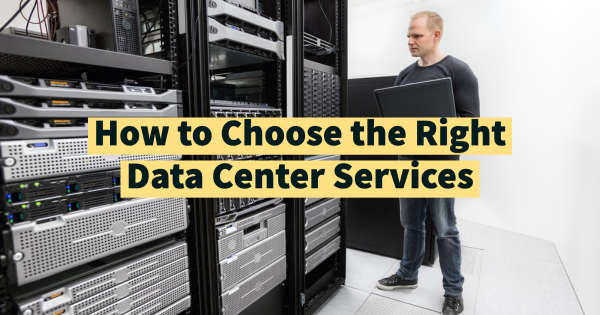 Information is arguably the most precious commodity in the world. The Data Age 2025 report produced by IDC estimated that the global datasphere would grow from 33 Zettabyte in 2018 to approximately 175 ZB by 2025. It represents a 26% annual compounded growth rate for the data generated by the world's digital systems.
In the current data-driven business world, executives may need to make sound and smart choices regarding their IT infrastructure. This includes the careful selection of data center services that will guarantee a smooth operation of their critical systems.
Are you out hunting for network carrier services to support your rapid expansion? Here are five key factors to keep in mind during the selection process.
1. Location
The location of the company's data center is one of the most vital considerations that you may have to take into account. Colocation creates a physical data recovery center that allows you to have your servers on an offsite location. If you are in an area prone to natural disasters, it is advisable to find data center services that operate on a different power grid than yours. It reduces downtime and loss of data if a major regional outage occurs.
2. Reliability
As many as 93% of companies that lose their data center for 10 days or more file for bankruptcy within a year. Data center services offer a variety of hosting plans for facilitating your tech-related business operations. You need to ensure that your business remains protected from downtime resulting from power outages or natural disasters. Inquire about the measures that they have put in place to minimize interruptions to your data processing. What redundancy systems do they have? Is there adequate ventilation and cooling within the data center?
3. Security
Data security is another critical factor to keep in mind when analyzing data center services. The 2019 Cost of Data Breach Report by IBM Securities shows the average cost of a cyber-attack is approximately $4 million. You need to find a data center that will protect you and your client's data. What physical infrastructure and firewalls do they have in place to protect your assets? Do they have enough locks, manned personnel, and round-the-clock surveillance for the data center?
4. Carrier Services Capacity
Another key feature that you should look at is the network capacity of the provider. You may need to factor in variables such as internet speeds, bandwidth, and connectivity. The data center services should evolve with your business, accommodating your business expansion. The speed and volume of data that you produce will increase with your expansion, and you ought to find a provider with the capacity to meet your needs.
5. Reputation
You may also need to find a reliable data center provider with a good reputation within the industry. You can ask for references from other business executives within your industry. Conduct your due diligence on the data center by reading through testimonials and feedback from their past clients. You can get an idea of what to expect during your interactions with the company.
Finding data center services that match your IT needs is a vital decision for your business.