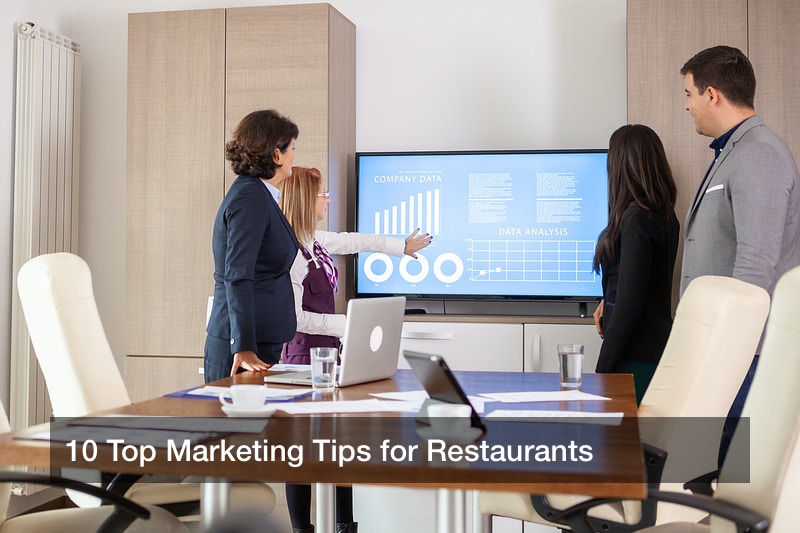 Think about your favorite restaurant. How did you first hear about it? Was it through social media, an ad on television, or a recommendation from a friend? No matter how you heard about it, it was through some form of marketing.
Marketing is important for restaurant leaders to spend time thinking about. However, restaurant leaders can sometimes get stuck when it comes to their marketing plans. How can they get the word out in a meaningful way that doesn't break the bank? It comes with balance and organization, but it can be done. Here are ten important marketing tips for restaurants, and how these tips can help take your restaurant to the next level.
Spruce Up The Restaurant
When thinking of marketing tips for restaurants, sometimes the simplest things can make the biggest impact. First impressions are important for restaurants, so take some time to spruce up the place if it's needed. You could paint the walls, invest in new tables and chairs, and add new decor. Updating the interior can give the restaurant a fresh new look that impresses patrons and attracts new customers.
You can also spruce up the exterior of the restaurant to better your marketing efforts. If the front of your restaurant looks worn down, it could send the wrong message to the public. It could look like your restaurant is uninviting or rundown. If you notice cracks in the exterior, fill them in. If the paint is chipping, paint a fresh coat. If you have an illuminated sign and one of the letters is out, replace it as quickly as you can. The better kept your restaurant looks, the more likely people will want to walk in.
Offer Weekly Promotions
One of the most effective marketing tips for restaurants is to offer weekly promotions to customers. Promotions give customers incentives to eat at your restaurant because they'll get something out of it. For example, you could run a "buy one entree, get one entree half off" promotion to get more people to come through your doors. You could also run promotions that allow your customers to register to win prizes, like gourmet gifts or gift certificates. The more value you can offer your customers through promotions, the better.
You could also run holiday-themed promotions. If Mother's Day is coming up, you could run a promotions where mothers eat for free that day. If Halloween is around the corner, you could run a promotion where the person who walks in with the best costume gets half off their next meal. You could also run promotions for non-traditional holidays, like National Pizza Day or National Pasta Day. There are a lot of promotions you can run for your restaurant, so make a list of the ones that make the most sense for you and create a calendar for them. The more organized your promotions schedule is, the better.
Set Up a Website
The average person searches for something on Google between 3 and 4 times per day. If your restaurant doesn't have an online presence, it's missing out on viable traffic. When thinking about marketing tips for restaurants, a key tip that stands out is to set up a website. Think of the website as the restaurant's virtual storefront. It's where people can go to find out what your restaurant's story is, when it's open, and what you serve. You can also create an option for customers to book online restaurant reservations. This will help create a more convenient experience for customers.
If you want your website to show up online, you'll want to look up best search engine optimization strategies for website. Search engine optimization (also known as SEO) is when you utilize your website to attract organic traffic to it, which causes it to rank higher online. The higher the website ranks, the faster it will be found by more people. There are a number of factors that contribute to SEO, and it can feel overwhelming to manage at first. However, once you get the hang of it, the results are worth it. If you can't manage it all on your own, you can always look into SEO services to help. If you need help designing your website, you can also look into web design companies. Web design and functionality play a part in SEO, so it's important to properly set them up.
Create (And Use) Social Media Accounts
Creating and utilizing social media is one of those marketing tips for restaurants that can set them apart from the competition. Creating accounts on social media platforms like Facebook, Twitter, and Instagram gives you an opportunity to establish a following and build loyal customers. When customers eat at your restaurant, you want them to feel like they're part of your community, right? Think of social media as an extension of that community. By creating social accounts, you're inviting customers to stay in touch with your restaurant.
Simply making social media accounts isn't enough, though. You have to regularly post on those accounts to keep your audience engaged. You can post pictures of the staff, the specials for the day, or even special promotions you have going on. You can also promote your services, such as event catering. If you run an Italian restaurant, you can post your Italian catering menus so people can share them with their followers. Social media is a free way for restaurants to spread the word about their services and stay in touch with customers. The more they engage their audiences, the more top-of-mind they're likely to be.
Build an Email List
One of the most effective marketing tips for restaurants, if done right, is to build an email list. This is a list of customers who have given you their email address so you can stay in contact with them. When done right, email marketing can provide a great return on investment. You can email your customers about special offers, promotions, and important updates. The more targeted your emails are, the better. For example, you could have an option for customers to only get emailed when you have fresh seafood available. Or, they can choose to subscribe to a monthly newsletter you put together. Email can be a powerful way to stay connected to customers, but there has to be a balance.
Stay away from emailing your customers too often. They may see it as spam and mark it as such in their inboxes. You should also avoid emailing people who didn't specifically opt-in to receive email marketing materials from you. There are some companies that buy email lists, but this tactic should be avoided. If someone gets an email from your restaurant out of the blue, they'll wonder where you got their information and likely mark your emails as spam. Instead, build an email list organically and only email people who want to hear from you.
Start a Blog
Something you can do to set your restaurant apart from the competition is starting a blog. You can use your blog to generate organic traffic to your website and increase brand awareness. The more people visit your website and find valuable content on it, the more likely they'll want to return to it. Blogging provides a way to create value for your customers and boost your SEO ranking online.
You may not be sure what to blog about at first. What topics should you discuss? What would your customers be interested in reading? You can start by writing a blog on how to make some of your favorite recipes at home, or how to save money while cooking at home. If you're struggling to come up with topics for your blog, or you simply need more help managing it, you could always look into hiring bloggers or marketing consultants to help you run it. The more consistently you post on your blog, the more engaged you become with your customers.
Host Fun Events
One of the more unique marketing tips for restaurants is to host fun events at the restaurant. Many people like to have an experience when they go out, and hosting an event is a way to create an experience that customers will remember. For instance, you could host a paint and sip night if your restaurant serves alcohol. You could also host a trivia night or a stand-up comedy night. Keep in mind that these events may require you to look into things like sound system rental and other equipment rentals. It may cost you a little more money upfront, but if you draw in the right-sized crowd, the rentals will pay for themselves.
Your restaurant can also host virtual events. You could invite your customers to attend a virtual cooking class, or even participate in a virtual open mic night. You'll have to arrange the technical aspects of the virtual event, but if it's done right, it can bring in new business and convince your customers to keep coming back.
Collaborate With Partners
There are marketing tips for restaurants that solely rely on the restaurant doing all the work. However, there are marketing strategies restaurants can utilize that establishes partnerships. Collaborating with partners can expose your restaurant to new audiences and help boost your marketing efforts.
For example, you could partner with other local businesses to create giveaways. If Valentine's Day is coming up, you could partner with a jewelry store and run a Valentine's Day giveaway. You could have customers register to win a free necklace and a dinner for two at your restaurant. You could set up registration boxes at both locations so your businesses can be cross-promoted. There are other ways you can collaborate with local businesses, so talk with your management staff to see what collaborations would align best with your business needs.
Find New Ways To Advertise
There are a lot of marketing tips for restaurants out there, which means a lot of restaurants may be using the same tactics. If you want your restaurant to stand out, think of alternative ways you can advertise. Can you sponsor a little league team? Can you run ads on a new social media platform your competitors haven't hopped on yet? Can you sponsor a local television or radio program that reaches your target audience? The more creative you are with your advertising, the more of an opportunity you have to own the market.
Keep your business goals in mind when you're finding new ways to advertise. If your goal is to get 50 new customers for your sushi bar, choose the advertising option that will help you get to that goal. You may think the best option is to invest in traditional advertising, however, your target audience may be better reached through social media advertising. Invest your efforts into advertising strategies that will get you the results your business needs.
Have Great Customer Service
One of the best forms of marketing is word-of-mouth marketing. People trust those in their inner circle the most, so if someone recommends your restaurant to their friends and family, they'll likely trust the recommendation. That's why local restaurants should focus on providing great customer service as part of their marketing efforts. You could have the best marketing strategy in the world, but people won't remember those efforts if you have poor customer service. People will talk if your service is lacking, and word travels fast.
Make sure your staff knows the importance of prompt and friendly service. Also, be sure to invest in a business digital phone system that works. If your phone system is outdated or doesn't work, you could get complaints from customers trying to call the restaurant and not getting through. The goal is to have as few complaints as possible so your marketing efforts don't go to waste.
There are a lot of different marketing tips for restaurants to consider pursuing. However, it's important to pursue the tips that will help the restaurant meet its business goals. These goals can include brand awareness, customer retention, and customer acquisition. And remember, marketing will bring people through the door, but it's your service and food that will get them to stay.