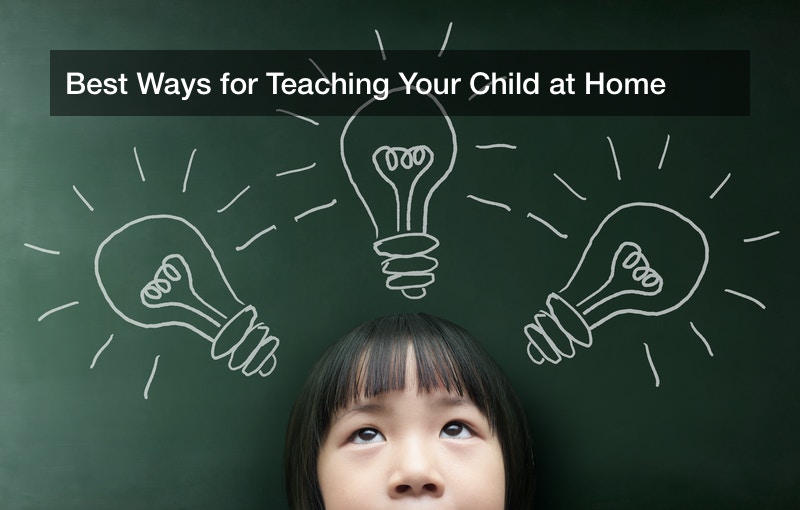 COVID-19 has certainly thrown the world for a loop and it looks like children staying out of school might be here to stay. As lawmakers and superintendents debate whether or not children should go back to school in the fall, more parents are worried about what their teaching schedule might look like in September.
After all, most parents aren't trained to teach their children math, English, and science. While parents are important in every aspect of their child's growth, many don't expect to have to homeschool their children when public education opportunities abound. Not only are parents feeling the pressure of teaching their kids, but children might also be more distracted since they aren't in a space that's dedicated to learning.
Teaching your child at home is no easy task but it can be done. Here are some of the best ways that you can ensure your child is getting a quality education from the comfort of your living room.
Make your home comfortable
Whether you're teaching your child at home by yourself or relying on teachers, you need to make sure your child has a dedicated learning space. It's kind of like how remote workers need an office; if your child does not have a space in the home to enter "learning mode," they will struggle all the more when it comes to processing information.
It's already hard enough to learn outside of the classroom. Luckily, you don't need to transform a bedroom into an office to get the job done. Sometimes, all you need to do is remodel your kitchen to have a little more space for learning. A simple trip to an office furniture store can make all the difference when you want to invest in a study desk or a more comfortable chair for your child. Just be sure to browse options online before you go and be sure to follow social distancing protocols if you visit in person.
Keep in mind that this learning space doesn't need to be huge, just present. If you teach your child at home in the living room, where TV and videogames are a distraction, little work will get done. The learning space could be a specific spot at the kitchen table or a new corner of the room that you put a desk in. Try to offer physical reminders to show your child that they should enter "learning mode." This might be installing a whiteboard on the wall with the date and student schedule or simply offering notebooks, pens, and pencils to inspire notetaking. If you happen to share child custody with your ex-partner, try to ensure they're following similar guidelines when they have your child. Consistency is key when it comes to successful learning.
Teaching your child at home also means that you have to keep them focused. Establishing ground rules is one of the best ways to do that. For example, you can follow the usual schedule for school and explain to your child that working from home is just like working from school. They will have hour-long classes with a small break in between to use the bathroom or grab a snack, but they cannot watch television until the end of the day. However, each child is different and teaching your child at home offers a unique opportunity to experiment with their learning styles. Some children might be more distracted in the morning when they wake up so working into the evening may be a better fit. Even though school offers a one-size-fits-all approach, now might be a cool opportunity to try something new. Ask your child what they prefer and try to incorporate some of their wishes into the school day. One day, it might be fun to work outside while another day, you might want to work in the garage. Using your residential garage door openers can give you the freedom to let fresh air in if you get too stifled.
Last but not least, you want to make the space comfortable. The globe is experiencing record high temperatures this summer so installing an air conditioner unit in the home might be essential. Most people learn best when they're in an environment with lower humidity at a temperature of around 70 degrees Fahrenheit. You should also consider the architectural design of your home; central air might be a better option if you don't have an open concept floor plan. A window unit can only cool so much of your space before walls and other barriers get in the way. Use your home to your advantage when you craft a school zone for your kid. Keep this in mind when you want to craft a great learning space for when you're teaching your child at home.
Invest in remote learning
You know how countless people have started relying on the help of an online doctor throughout the pandemic? Patients simply log into their account at the time of their appointment to talk to a person in real-time. Remote learning has followed suit.
Offering classes online has become the primary way for teachers to stay connected to their students. In most cases, students will rely on an online schedule and connect to different video chat rooms for different classes throughout the school day. Teachers will also often have office hours, thereby giving students the ability to come ask them questions about lesson plans, get help with homework, and more. While remote classes of 20+ kids are good, the foundation for learning involves one-on-one time with teachers, tutors, and, of course, parents.
Unfortunately, not all schools are offering a remote learning program for their students, but there are countless options for tutors, teachers, and programs online. If you're busy working from home, allowing someone else to teach your child can make all the difference when it comes to keeping your household afloat.
After all, some parents simply don't have the tools they need to teach their children. As long as you have a computer-like device (such as a tablet, laptop, or desktop), you can tune into countless online teachers.
This time of unpredictability is a huge stressor, but some studies have shown that kids are actually thriving under quarantine conditions. The anxiety of going to school has been quelled and students are better able to focus on their learning without distractions from other classmates. Teenagers are better able to hold themselves accountable and it's a good test in pacing yourself throughout the day.
In a recent blog by Edutopia, one highschooler doesn't miss traditional schooling at all.
"The reason I enjoy online learning is because of the opportunity to structure my day efficiently," a 10th-grade student explains. "I am able to workout, relax, and complete the work in a timely manner, with no distractions."
Of course, this isn't the same for everyone. Many young children demand the structure of a school day to be successful. But as children grow and become more independent, learning what works best for them can have a positive impact on the way they work, learn, and play. Since they don't have to waste time commuting back and forth some students are indulging in more free time and stressing less about making it to class on time.
Juggling a jam-packed schedule simply doesn't work for everyone. Now is a good time to keep your child engaged without overloading them. During this trying time, everyone needs a bit of a break. Teaching your child at home with the help of online classes might be just the thing we need to help our children thrive.
Take breaks when you can
Even though your child is learning from home, it doesn't mean that they won't need a break. Schedule snack times, nap times, and exercise breaks as needed, whether your child is in elementary school or high school. If you're too invested in work then you're going to get burnt out; the same goes for children. Even adults get burnt out if they're working at a task for more than 45 minutes at a single time. The importance of breaks when you're teaching your child at home cannot be overstated.
At school, students have time to talk to their friends, go to gym class to let out steam, and attend extracurricular activities. While it's important to work on teaching your child at home, it's also important to foster their health in other ways. If they're not getting a variety of stimuli, stress can make them sick. You might end up in an urgent care facility if your child's needs aren't met.
After all, your child won't perform well in school if they aren't taking breaks. Now that summer is here, don't hesitate to enjoy your new pool installation with the whole family. An afternoon spent poolside is a big treat for hardworking students. Think of these activity breaks like gym class: physical fitness is important for your child's well-being. If you want to turn it into an educational experience, you can always teach them the importance of physical fitness, how to lead a healthier life, and talk to them about the issues that might crop up if they do not engage in regular physical activity. Setting the foundation for a healthy life can make all the difference in your child's confidence and health later.
Invent extracurricular activities
Learning doesn't always mean taking notes and using math. Odds are that your child will miss partaking in after-school activities. If you hate the thought of your child being glued to the television each day, why not start a new hobby or "club" of your own at home.
One of the easiest things you can do at home is gardening. Not only will this encourage a healthy habit, but it can also teach your child the responsibility. After all, plants need a bit of tender, loving care to blossom and grow. Now is a good opportunity to spruce up your yard and teach your child about different plants, gardening tips, and tree care. They might even grow up to become an environmentalist or a gardener. If they don't, however, at least you know that your child will be able to take care of their own lawn in the future. It'll be worth it to see their hard work pay off in the end. The best part? This works for young children and older kids, alike. You can also let them watch nature documentaries to pad their education further.
If your child doesn't have a green thumb, getting art supplies is another easy at-home adventure. Paints, pencils, charcoal: all of these art tools offer unique opportunities to explore creatively. Try to follow a Bob Ross tutorial together or rely on a YouTube video that explains the importance of the color wheel. You might not get an artist at the end of the day, but you can establish a life-long love of art in a child who finds it interesting.
Another extracurricular activity might be cooking. This is a useful skill that's often shirked by teens who rely on their parents to make their food. Making cooking fun isn't always easy, but its results can make it all worth it. Start by asking your child what their favorite food is and showing them how to make it. You could also incorporate their other interests, too. If your kid likes The Lord of the Rings, making Lembas bread can make the task more fun. Baking is another great learning experience since it relies heavily on measuring and math. Teach your kid how to make Pokeball-shaped cake pops or try your hand at recreating something from the TV show "Nailed It." Even if your culinary experiments end in disaster, you and your child will learn something by the end of it.
Teaching your child at home: Practice patience
There's no sure-fire way to figure out how to help your quarantined kid learn at home. At the end of the day, not all of your ideas will land and you will likely struggle along with your child as you adopt this new way of learning. That's okay. Practicing patience and reminding yourself that each day offers something new is the best way to keep up your morale during this difficult time. Try to engage in a quality routine to encourage your child to do their best each day. While experimenting is fun, providing structure is key. Keep the conversation flowing with your child to ensure they're doing the best that they can in the midst of the pandemic.
This time is a struggle for everyone as we navigate the pitfalls of a global pandemic. When you have to work on top of teaching your child at home, this can seem like an impossible task. By relying on these tips, however, you might discover a way that works for you and your child. Try out these aforementioned pieces of advice to ensure your child is learning in spite of the pandemic keeping us indoors.