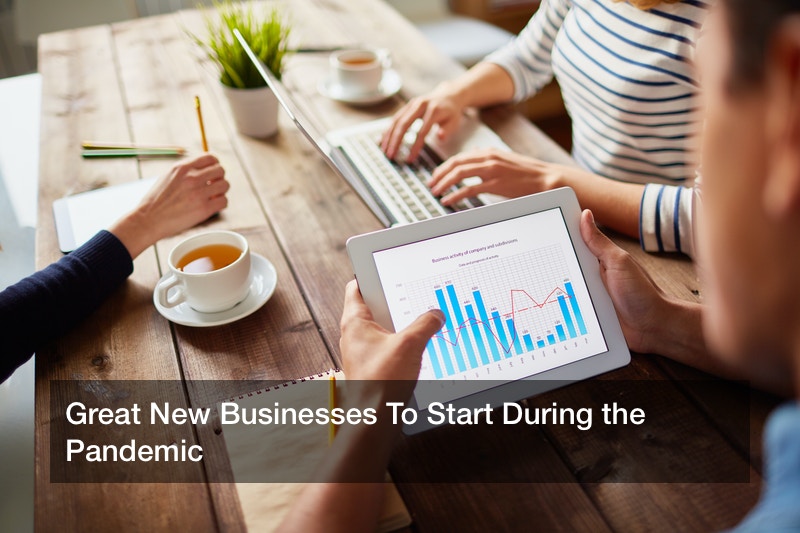 If the pandemic has taught us anything, it is that we have to be flexible when it comes to how we do business. If you take a step back and evaluate what is happening with businesses, it is easy to see, for online businesses, COVID 19 has been a boom.
Brick and mortar businesses, unfortunately, have not done as well. With stay at home orders, and businesses being ordered to shut down, online businesses have seen overwhelming surges in business. If you are ready to take the plunge and start your online business, there are some great new businesses to start right now.
Some Great New Businesses To Start
Whether you are a current business owner or you are considering starting a new business, moving to an online model is a great option that will help you to achieve your goals. The internet is a great place to sell both products and services.
Many people already have the skill set they need for some great new businesses to start. For example:
If you are a tax attorney, an online service including video consultation can be the ideal solution for maintaining social distancing. Even when things reopen, many people are still going to want to get services online because they are convenient. This business model allows you to keep your overhead down, use your time more efficiently and meet a huge demand.
Book keepers and CPAs have a unique opportunity to help small businesses get into recovery mode with online payroll services.
Virtual medical care, mental health care, and other health care services have become very big business, and likely will continue to grow. If you can meet a need, you will succeed.
The fallout from COVID 19 may devastate many brick and mortar type businesses, and it will increase the need ten fold for online services. You can take your current business, and transform it into an online business, or take advantage of the great new businesses to start. Now is the time to make your move.
A good example of a new business to start that will help to meet a huge demand is a cargo shipping company. With more people than ever shopping online, retailers are finding it difficult to meet the shipping needs. Providing a third party shipping service can help you to find the success that you are hoping for.
Your business can support other businesses. B2B businesses are very successful online. You can help other businesses to reach their business goals, while you are reaching yours. Shipping, logistics, warehousing, bookkeeping services, order processing, customer service, and more can all help other businesses to get back up and running or handle the new extraordinary shift in business.
Online Services Will Be Big Moving Forward
There are a few reasons why starting an online business or offering online services to complement your brick and mortar setup is a good idea. COVID 19 has locked millions of people down for months now, moving forward those consumers will likely still remain very cautious when it comes to venturing into stores and offices.
For many brick and mortar business owners, the cost of keeping employees and customers safe can be prohibitive. Even as the stay at home orders are lifted and more non-essential businesses are allowed to open up, business owners are tasked with figuring out how to keep everyone 6 feet apart.
Of course, keeping everyone 6 feet apart also means, allowing fewer people into your business, which will slow business down to a crawl. Online, social distancing, special arrangements, and other necessary offline business activities are just not something you have to worry about.
Here are some things to consider when you are considering one of the great new businesses to start online:
Consumers have changed the way that they shop because of COVID 19. Online retailers and services were already enjoying a nice share of the consumer market before the pandemic locked everyone down. Since the pandemic, the number of consumers that have turned to online businesses has tripled. Once consumers have learned about the convenience of shopping online, it will likely be hard to get them to do things the old way.
Online retailers and service providers save a bag full of cash on overhead. What if you did not have to pay for a traditional office or a traditional store? How much money would that keep in your pocket? The average space rental can be astronomical. Online vendors do not have to worry about paying exorbitant overheads for spaces that people will rarely visit.
Striking while the fire is hot will set you up for future success. Starting a new business as a specialty project while everyone is coming out of the pandemic, will help you to build a loyal customer base. Consumers will not forget that your business was there when they needed you most.
Online sales have jumped by 49%, it is estimated that retailers that sell non-essential products and services online have seen a jump in sales by triple digit percentages. You can become a part of the online commerce community by taking a few simple steps.
What Does the Pandemic Economy Look Like and Will It Remain the Same?
How people shop has changed tremendously because most other options have been taken away. You may be hesitant to take advantage of the great new businesses to start because that little voice in your head is saying "once things return to normal, everyone will go back into actual stores". The fact is there will be a "new normal" for consumers. One of the "new normals" will be to shop as much as possible without stepping into a store.
As it was online sales were projected to reach a staggering 6.3 trillion dollars by 2023. Now those estimates have jumped significantly. Consumers that were not getting services and products online are now. A whopping 85% of consumers polled report that they have made an online purchase in the last 7 days. That boils down to billions of people shopping online.
The big question is will the trend continue? Experts across the board say it will. Everything from medical care to dog toys to house hunting is being done right online, and consumers seem to really like it.
Of course, there are some things that are going to be a hard sell online like anything travel related, it may be a while before Americans feel comfortable enough to start boarding planes, trains, and ships again. Don't look to sell luggage online that likely will not pan out.
Another industry that has been hard hit is the bridal industry. Now is not the time to decide to follow your dream of becoming a wedding planner, but there are plenty of booming industries that are offering services online like mental health counseling, investment services, and more.
To take advantage of the booming side of the pandemic economy, you have to consider what people will need now, and what they will need moving forward. The majority of service providers can provide their services from afar or at least the preliminary contact virtually.
A crafty plumbing service in Massachusetts where the restrictions are extremely tight, started providing an online service where homeowners experiencing plumbing issues that did not feel comfortable with a plumber coming to their home, could get guidance. The plumber would connect with the client and walk them through the repairs via Zoom for about $75 an hour.
The First Step To Get Great New Businesses To Start
Getting started with an online business, no matter what the business is, starts with a reliable internet provider. Having the right provider that can offer you the space, speed and reliability that you need to run your business is vital to the success of your business.
Once you have decided on a provider, you will need to connect with a firm that specializes in a custom built website. A website is the foundation for everything you will do online. A custom website will help you to market your business, sell your products or services, and connect with your audience.
Even if you plan on opening a brick and mortar business, you still should have a custom website to give people the option of shopping in either venue. Flexible shopping options are a must for today's consumer.
Your Next Step
You will need a digital marketing agency on your team to help get your business off the ground. You may be able to find a digital marketing agency that offers a turn-key approach to getting your business started.
It is always best if you can do business with a single vendor that offers all the services that you need. For example, some marketing agencies will offer:
Web design services and web development services.
A full marketing menu that can be custom-fit to the unique needs of your business.
Analytics and more.
The right agency will deliver all the services you need under one banner, and provide you with the education that you need as well to succeed. A marketing company with e-commerce experience can be your best ally in reaching your business goals.
How Can You Afford All This?
Economic times are tough for a lot of people, but you should not let you stop it from starting a new business online. You may have to come up with some creative financing options since most banks are not really on board with the idea of starting a business during the pandemic.
Pool all of your resources. Look to credit cards, unwanted items around the house that you can take to your local pawn shop, ask friends and family members to consider bankrolling part of the costs. There are ways to come up with the capital that does not involve being denied by your bank for a small business loan.
You likely have jewelry that you have not worn for a while, if you are wondering where to sell my jewelry consider online classifieds, community boards, through social media, and apps like Offer Up that allow you to sell these types of goods.
In other words, this can be a golden opportunity to take advantage of the new economy and you do not want to miss out because you cannot come up with the capital to kick off your business. Kickstarter is a crowdfunding site that can help you raise some cash. Think outside the box to find the funding.
Of course, before you get too freaked out about costs keep in mind that the type of business that you plan on starting will dictate how much it is going to cost to startup. For example, if you are thinking about starting an urgent care clinic virtually and wondering what does it cost to start an urgent care clinic the answer is it will likely be more expensive than starting a bookkeeping service. Not all great new businesses to start are cheap and not are all expensive.
Your business plan will dictate how much you will need to spend to get your business off the ground. Of course, you do not have to put all the money upfront. You can start the business and make improvements in increments as you start earning.
A Well Laid Out Plan
It can be a very exciting time for certain business owners. If you have had a budding idea about great new businesses to start and are ready to take the next step, be sure you do your homework. There are literally trillions of online businesses, make sure there is room for yours.
Before you get started do some research. Check out what the competition has going on. There is nothing wrong about perusing other websites that are offering the same services or products that you plan on offering. A simple Google search for businesses that are in the same niche as your own can provide you with a wealth of information and help you to formulate a strategy to ensure that your business is competitive.
It is true the pandemic has changed the global economy, but with a little research, creative financing, and a team of experts to help get your business off the ground this may be exactly that opportunity you have been waiting for. Consider the great new businesses to start and get started.